UNITED AUTOSPORTS MICHELIN LE MANS CUP SEASON GETS UNDERWAY WITH TOP 10 FINISH AT PAUL RICARD
Top-10 finish for Naj Husain and Wayne Boyd at Paul Ricard
Tough debut for Rob Hodes and Garett Grist in #23 Ligier JS P3
Good pace from Jim McGuire and Matt Bell goes unrewarded
Fastest lap of the race goes to Matt Bell in the #22 Ligier JS P3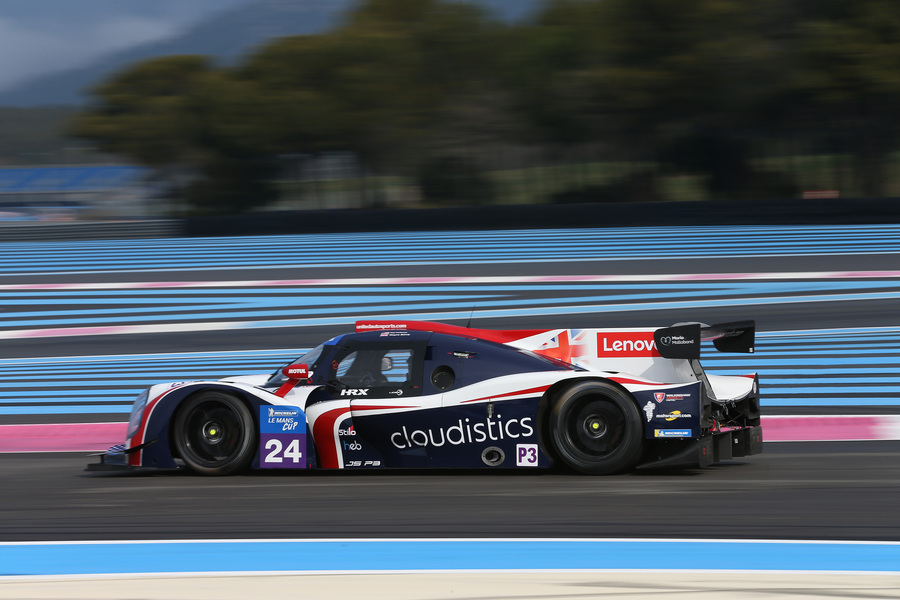 United Autosports have begun their 2019 Michelin Le Mans Cup campaign with a top-10 finish at Paul Ricard today (13 April) as Naj Husain and Wayne Boyd brought the #24 Ligier JS P3 home in ninth place.
The opening round of the season began on Wednesday for the Michelin Le Mans Cup team as they attended the official prologue test. Two free practice sessions were held on Friday with qualifying and the race being staged today in dry and sunny conditions.
This year saw the return of Jim McGuire and Matt Bell, with Naj Husain also returning – this time racing alongside Wayne Boyd for the season opener, due to Colin Braun's IMSA racing commitments. We also welcomed Rob Hodes to the team for the first time, racing alongside Garett Grist.
All three cars had a good start to the week at the prologue and during both free practice sessions showing good pace in the three Ligier JS P3s. During qualifying Rob was tagged by another car with six minutes left to run, meaning he would start from the back of the LMP3 field. Naj qualified P16, with Jim a little further up the road in P14.
The race began just after 16:00 on Saturday evening, with Jim McGuire, Rob Hodes and Wayne Boyd behind the wheel of the Ligier JS P3s. As the lights went green, Wayne started making his way through the field and was up to third after 20 minutes setting purple sectors and fastest laps. Unfortunately, Rob had a small spin and lost a couple of places he made on the start, while Jim also made up a few spots before going wide and dropping back.
With 40 minutes gone, the safety car was called out to rescue a car that had hit the barrier heavily. The marshals quickly recovered the car and the race went green, before the safety car was deployed again moments later, just as the pit lane opened.
Wayne pitted from second, still under safety car but getting hit by the car behind on entry to the pits. He handed the car over to Naj Husain, while Rob Hodes pitted from P17 to hand over to Garett Grist. Jim was last to pit and handed the #22 AERO Ligier over to Matt Bell in P13.
The safety car came in at the end of lap 30 with Naj in third, Matt in 11thand Garett 16th. Unfortunately, Naj was then caught by the pro drivers behind him on the restart, which caused a Porsche to spin and debris to scatter, which Naj brilliantly avoided. Before long, Matt caught Naj and passed him for seventh place and started chasing down the cars in front. Unfortunately, both Matt and Garett (along with 10 other drivers) then picked up a two-minute stop and go penalty for passing the red light at pit exit when they left the pits.
Resuming 10th (Matt) and 18th (Garett), Naj was then penalised for overtaking under the safety car procedure, the stewards handing him a drive through penalty. With 15 minutes of the race left to run, an FCY was thrown to rescue a car that crashed at the final corner and for a loose wheel on track. The race went green with seven minutes left on the clock, with Naj P9, Matt P10 and Garett P14, positions the team maintained at the chequered flag. Matt Bell was also given the accolade of fastest lap of the race on the final lap.
The Michelin Le Mans Cup now heads to Monza, Italy for round two. Meanwhile, United Autosports ELMS team will start the 4 Hours of Le Castellet tomorrow at 12:30.
Jim McGuire
"It's great to be back with the team and it's great to be back at Paul Ricard. I had a lot of fun getting back in the car here at a very technical track. In qualifying I finally got to a point where I thought I was figuring out sector three. The race was good, I got a good start and enjoyed my stint. I handed the car over to Matt and we weren't far off P1 as Matt was chasing them down before we got the penalty. Onto Monza."
Matt Bell
"It was an up and down race to say the least. I was really happy with Jim's stint. He got clipped by a Mercedes early on but I thought he made great progress all weekend. He then came back through the pack and raced really well and was putting in some good lap times which was our target. We got a fortunate safety car the first time round which bunched everyone up. The penalty was disappointing as I was closing up to the lead pack so I was kicking myself for that. The car was great to drive and we ended up with fastest lap of the race which was a nice consolation to take away I suppose. We just missed out on a top-10 but I'm pretty buoyant going into Monza as the pace is clearly there."
Rob Hodes
"Being with United is awesome and I've enjoyed my weekend with the team. The start of the race was good fun. Unfortunately we got hit in qualifying and I had to start from the back. In the first section of the race we made up some spots and I was passing some cars so it felt good but then we had some issues off track and the race didn't go our way from then. I'm really looking forward to Monza now."
Garett Grist
"It was a bit of a rough race. P14 isn't where we wanted to be. Rob had a tough start as he got taken out in qualifying and then there was a lot of traffic at the start of the race. I got in and it looks like I left a closed pit, which got us a penalty which didn't help. My pace was alright in the race but onto Monza now."
Naj Husain
"We had a great race. We struggled in qualifying, I couldn't get any clean air, which put us right back on the grid. We decided to change strategy and put Wayne in first to start the race and it turned out to be the right decision. I tried to hang on the best I could when I got in but it was a great learning experience battling with all the pros. We had a great time and we actually got a pretty good result."
Wayne Boyd
"I really enjoyed my first race in the Michelin Le Mans Cup. It wasn't the ideal starting position but we gambled on me starting, which paid off. I loved my stint, it's probably the best one I've done in a long time. I definitely could have got into the lead, but the safety car came out twice which hampered that, but it was the right way to go. Naj got in the car and did a solid job and brought it home P9 so it was a good start."
Zak Brown, Team Owner and Chairman, United Autosports:
"The Michelin Le Mans Cup team have shown great potential this race. The pace is clearly there for them and I'm looking forward to seeing how things progress."
Richard Dean, Team Owner and Managing Director, United Autosports:
"We have made some great progress with the Michelin Le Mans Cup team and I'm really impressed with the pace all three cars have shown this weekend at Paul Ricard. I think we were unlucky in qualifying and that automatically puts us on the back foot for the start of the race. Wayne did a fantastic job during the first half. It was just a shame the safety car came out when it did. Naj then did great to hold on to get a top-10. Matt also did well pace wise, frustrating to get such a long penalty but that's racing sometimes. Rob and Garett had a tough start to their Michelin Le Mans Cup campaign. It didn't help that Rob was taken out in qualifying but I think they will come back strong at Monza."