UNITED AUTOSPORTS HEAD TO THE BELGIAN FOREST FOR ROUND FIVE OF THE EUROPEAN LE MANS SERIES AND MICHELIN LE MANS CUP
Spa Francorchamps next stop for ELMS and MLMC teams
Car #3 now lies second in championship standings after Silverstone win
Le Mans Cup team hoping to break further into the top-ten in Belgium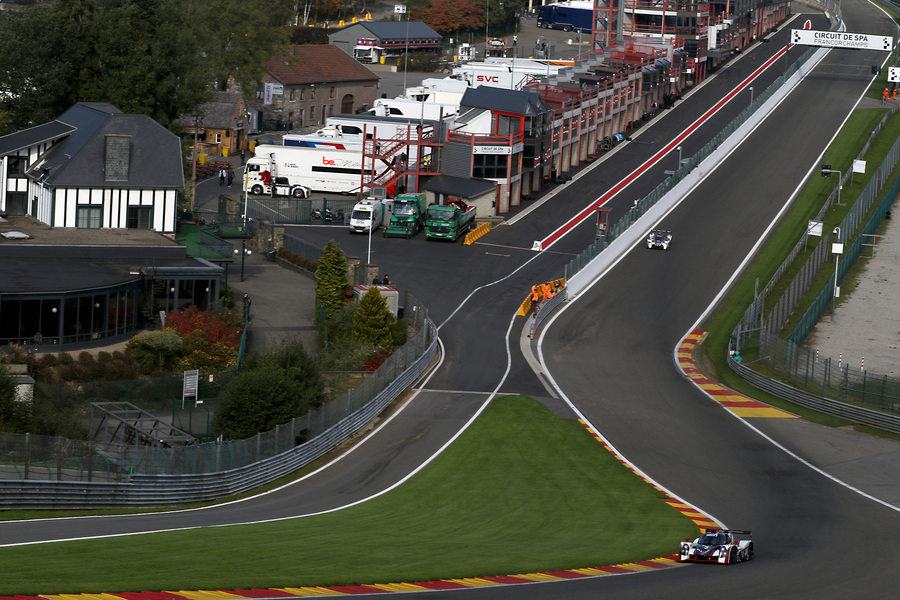 United Autosports return to the Belgian forest this week as they prepare for the penultimate rounds of the European Le Mans Series and the Michelin Le Mans Cup at Spa Francorchamps.
Last time out at Silverstone, United Autosports maintained their home race winning streak, when the #3 Ligier JS P3 of Tony Wells, Garett Grist and Matt Bell crossed the line claiming the team's first ELMS win of 2018 after a fantastic race by the trio. Hot on their heels were the #2 pairing of John Falb and Sean Rayhall – a storming drive by Sean during the first two hours saw him recover from a first corner spin which put him dead last to move up to second as he handed over the Ligier to John Falb. Unfortunately, while on target to jump the #3 car in the final round of stops, an electrical problem caused a delayed pit stop and dropped the unlucky pair to seventh. Tony, Matt and Garett now lie joint second in the LMP3 standings with 46.5 points, only 12 points behind the leaders with two races to go.
The ELMS LMP2 team suffered further misfortune at Silverstone as Phil Hanson was forced to retire the #22 Ligier JS P217 only slightly into the second hour denying Filipe Albuquerque chance to get behind the wheel. Hugo de Sadeleer, Will Owen and Wayne Boyd also struggled in the #32 Ligier – a good start by Hugo was thwarted in the final moments of the race as contact with a lapped car caused a puncture and an unscheduled stop dropping them to 10th at the flag.
Spa Francorchamps sees the return of the Michelin Le Mans Cup after a mid-season break. Naj Husain and Colin Braun are hoping to improve on their top-eight finish at Red Bull Ring, while Matt Bell and Jim McGuire are also hoping to make headway on their top-10 placements this year. Richard Meins and Christian England have been unlucky, running in the top-five earlier in the season, only for a power glitch to ruin their progress. They too will be hoping for top-10 finishes at Spa.
The Spa Francorchamps race weekend begins on Friday 21st September with Michelin Le Mans Cup free practice at 10:45. The two-hour Michelin Le Mans Cup race will be held on Saturday 22nd September at 15:50, with the 4 Hours of Spa Francorchamps beginning at 12:30 on Sunday 23rd September.
Phil Hanson
"Spa is my favourite circuit on the ELMS calendar. I'm always a little more excited to be racing at Spa compared to some of the other great venues on the calendar this year. I am still chasing the podium we have been after all season but we have made some changes to our package so hopefully that will be something that helps us to reach our goal."
Filipe Albuquerque
"Spa is a track that I really like and I know very well, I have raced in many 24 Hours of Spa events so the knowledge I have of the circuit should help us to get quicker and maximise our set up. We have been working hard to improve and understand our lack of performance at Silverstone, and we have made a few significant changes to our package, so we are very motivated and full of anger to charge back to a good result."
Will Owen
"Finally it's time for Spa. As everyone in racing knows, Spa is a special experience and every lap is exhilarating. So far we have had a disappointing season as far as results go, but we have had some potential across the last four races. Hopefully here we can show that potential with a good result. As usual, we will need a mistake free race to be in contention given this year's competition. Let's see if we can put it together."
Hugo de Sadeleer
"Spa is the best and probably the most difficult track on the calendar. I've had some of the best moments of my career at this track and I'm confident that the change we have made to our package should give us the extra performance that we've been hoping for."
Wayne Boyd
"I really can't wait for Spa. It's my favourite circuit on the calendar and this year driving in LMP2 it will be even better. It's hard to believe we're going into the penultimate round of the championship, we've had difficult races with luck just not on our side but we will be pushing to finish the year strong. We can take a lot of positives from Silverstone, both for me personally and the team in general, so if everything clicks together we'll be hopeful for a podium here."
John Falb
"Spa is one of my favourite tracks and I really enjoy the high speed flat-out turns. We will be looking to capitalise on all the hard work and speed we have in order to get a proper result."
Sean Rayhall
"I'm really excited to return to Spa with United Autosports for the fifth round of the European Le Mans Series. Although we haven't had the best luck lately, we have had a really strong car and have been performing at a high level, so I believe this legendary circuit will treat our team very well."
Matt Bell
"We had a fantastic result last time out with the win at Silverstone and we'll be aiming to keep that run going at Spa. We're lying joint second in the standings so the championship challenge is on. We've always gone well around Spa in previous years, so if we can find the form we had at Silverstone I think we should be fighting for the win. Game on."
Tony Wells
"What a difference a race makes. After Red Bull Ring, we all needed a lift and at Silverstone the team delivered just that with a comprehensive victory that was fantastic; and a huge relief. For me also, the 'ELMS first win monkey' is well and truly off my back. Spa is the best track on the calendar and I like it a lot. When asked about Spa at the Silverstone post-race press conference I suggested we are cautiously optimistic."
Garett Grist
"We head to Spa carrying great momentum from Silverstone. I think we've come up with a good game plan for the weekend. If we execute we can be there in the end with a shot at winning and that's all you can ask for. I think we'll be aggressive and ready to fight."
Jim McGuire
"I absolutely love Spa. Racing there last year with United Autosports was unreal, and I've been counting down the days since then until this year's race. I think our AERO-painted Ligier JS P3 will be competitive in Belgium this weekend and we know Matt can be very quick. My goal is to keep the peddle down through Eau Rouge, turn some quick laps, and keep the car in good position for Matt. And also embrace the dream world that is racing at Spa! Absolutely incredible."
Matt Bell
"It feels like forever since our last MLMC race. I'm really looking forward to teaming up with Jim again, I always enjoy driving with him and we had a good run here last year with a P6 finish so we'll be aiming for a repeat performance, and hopefully do even better."
Richard Meins
"There is no better place to be getting behind the wheel of the Ligier after the summer break than Spa. No matter how many times I race there, the sheer thrill of driving on this historic track never fails to bring a smile. We know the United Autosports Ligier will be competitive, the team are pulling together as always and Christian and I will be determined to put our run of bad luck behind us. If we can string together a trouble-free weekend, I am confident of a good result but whatever happens, you always leave Spa with great memories."
Christian England
"I love driving at Spa, it is my favourite circuit of the year. It's the circuit we won the championship at in 2016 so it always seems special going back there. There's only two rounds remaining in this year's championship so Richard and I are looking for some strong performances and results to finish off the season, what better place to start."
Naj Husain
"Spa is the mega track that everyone raves about and I am excited to finally race there with United Autosports. Colin and I will push hard for a great result. We are close, we just need to put it all together."
Colin Braun
"I'm really looking forward to racing at Spa with Naj! It feels like it's been a long time since Red Bull Ring so I am more than ready to get back in the car. Naj and I have not been to Spa before, so learning new tracks is always a fun challenge but a place like Spa really should be incredible. I have heard so many amazing things about the track and cannot wait to get going. For these last two races in MLMC we are just looking to put it all together, I think we have been in a position to be in the top five if we had a few things fall our way - so that is our goal - try and finish on a strong note and achieve a top five!"
Zak Brown, Team Owner and Chairman, United Autosports:
"We had a great result at Silverstone so now we just need to keep that momentum going into the final two rounds. I'm looking forward to seeing how we get on. I love Spa and I'm excited to be there so fingers crossed we get a good result."
Richard Dean, Team Owner and Managing Director, United Autosports:
"To win our home race for the third year running was fantastic. Now we just need to maximise all our efforts for the next two races to keep us in with a chance of the championship. We have been working on our LMP2 package as well, to hopefully get us closer to the front of the grid than we have been for the first part of the season. Our Michelin Le Mans Cup guys performed well at Red Bull Ring too, so we just need to pull it altogether to get some top results for them too."