1992 GALMER G92 (CHEVROLET)
Danny Sullivan scored a win at Long Beach for Galles-Kraco Racing in the 1992 PPG Indy Car World Series in this car.
Galmer was an American racecar manufacturer that built cars between 1992-3 in CART competition and the Indianapolis 500.
The cars were commissioned by the Galles Racing team. Although they were an American-based effort, the cars were actually assembled at the Galmer Engineering shop in Bicester, England.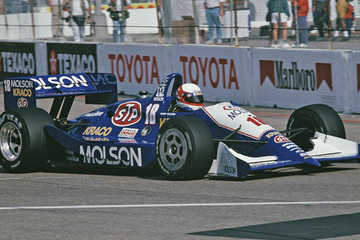 | | |
| --- | --- |
| Manufacturer | Galmer |
| Series | 1992 PPG Indy Car World Series |
| Team | Galles Racing |
| Driver | Danny Sullivan |