1990 LOLA T90/00 ILMOR-CHEVROLET
Al Unser Jr. won the 1990 CART PPG Indy Car World Series Championship in this car (chassis no. H.U.02).
The American swept the Valvoline-sponsored Galles-Kraco Racing entry to six CART race wins that season to earn his first CART "crown", victorious at Milwaukee, Long Beach, Toronto, Michigan, Denver and Vancouver.
Unser took the Ilmor-built Chevrolet 2.65-litre, turbocharged V8 engine powered Lola to 10 podiums in total during 1990 having finished fourth in the Indianapolis 500.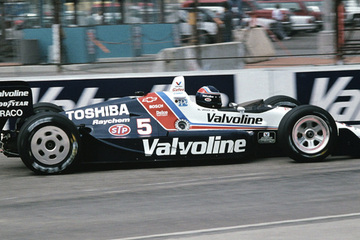 | | |
| --- | --- |
| Chassis | H.U.02 |
| Manufacturer | Ilmor-Chevrolet |
| Series | CART PPG Indy Car World Series Championship |
| Team | Galles-Kraco Racing |
| Driver | Al Unser Jr. |