1988 AUDI 200 QUATTRO TRANS AM
The Audi 200 Quattro was revolutionary in its year as the first four wheel drive race car in the SCCA/Trans Am era.
After such a successful year in 1988, four wheel drive race cars were banned from racing in the Trans Am series.
This chassis won the 1988 Sports Car Club of America (SCCA) Trans Am championship with Hurley Haywood as its driver.
Audi was dominant in the series and also won the manufacturers title with the first four wheel drive car to compete in the Trans Am championship.
In 1988 Haywood took victories in Dallas and Detroit, with four further podiums at Long Beach, Brainard, Meadowlands and Mid Ohio.
The car is powered by a 2.1 litre turbocharged inline five engine and has a six-speed manual gearbox.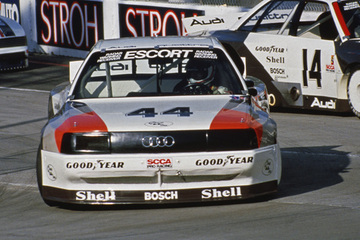 | | |
| --- | --- |
| Chassis | 44 ZJA 000 013 |
| Manufacturer | Audi |
| Series | SCCA Trans Am Series |
| Team | Audi Sport |
| Driver | Hurley Haywood, Hans Joachim Stuck, Walter Rohrl |
| Performance Statistics | 550 horsepower, 0-60 in 3.7 seconds 185mph top speed |