1985 ROUSH PROTOFAB
This car was raced in the SCCA Trans-Am series as both a Ford Capri and a Mustang by Willy T. Ribbs.
Ribbs scored seven victories in 1985. In 1986, Scott Pruett won the IMSO GTO Championship in this car.
Deborah Gregg raced the car in 1987 for the Roush Team in the Trans-Am series and Wally Dallenbach raced the car in 1988.
This car also scored fifth position overall at the 1986 Daytona 24-hour race.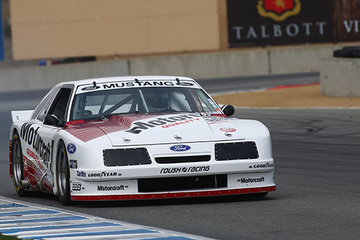 | | |
| --- | --- |
| Chassis | 008 |
| Manufacturer | Roush Racing |
| Series | SCCA Trans Am / IMSA GTO Championship |
| Team | Roush Team |
| Drivers | Willy T. Ribbs, Scott Pruett, Wally Dallenbach, Debra Gregg |
| Performance Statistics | 800 horsepower, 0-60 in 4 seconds, 185mph top speed |