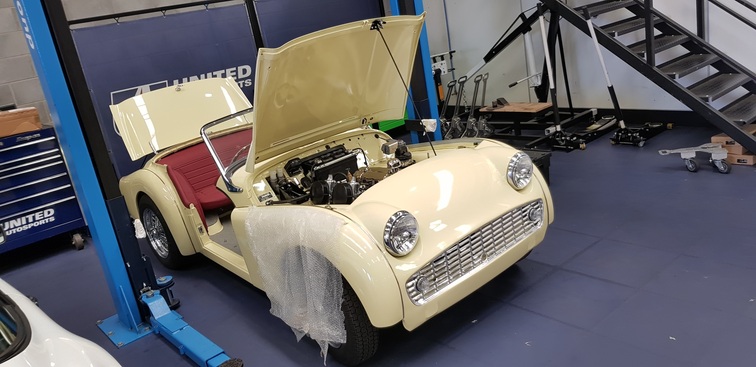 Triumph TR3 A
The TR3A was Triumphs third most successful variant of the Triumph TR range and in its day was "arguably the British sports car or choice".
£59,995
ENQUIRE ABOUT THIS CAR
expand_less
expand_more
OVERVIEW
Made between 1957 and 1962, over 58,000 were built and shipped all across the road. The TR3 was a popular choice in America offering more horsepower than its European rivals like Porsche, something the Americans are still obsessed with to this day.
One of the factors which really set the TR3"A" apart from its rivals was its brakes. These Triumphs were the first British production car to be fitted with disc brakes as standard and were well known for their superior stopping ability. The TR3"A" went on to have a very successful career in motorsport, competing all over Europe.
Having spent its entire life in the UK, the majority of which with just one family, and only having had two private owners since, this marvellous machine has providence in abundance.
The two inch thick history file dates all the way back to its original invoice as a demonstrator for the Northdown Motor Company in Margate. After eight months with the company it was transferred to a garage in Ramsgate to be sold, where, on the 6th of July 1959, nautical engineer Mr Laslett walked in to the Kent based showroom and adopted it into his family life for the next 42 years. Mr Laslett had embarked upon a full restoration before passing away circa 1980.
The car, which had been stripped back to bare metal and repainted, was passed to his daughter, now Mrs Gillard. The restoration work was completed by family friend Mr Tucker before returning to the road as a Mrs Gillard's daily transportation, in honour of her father. It remained with her in relatively frequent use until 2001 when it was finally time for this wonderful little sports car to find a new home.
It was then a local man Mr Howells who found it and began its second stint of refurbishment. Keeping it as true to its patina as possible, whilst making sure it was in the best fettle possible, Mr Howells spent an enormous amount of time and money over the 10 years he owned it.
In 2011 it was changed hands again to Mr Andon of Leatherhead. What Mr Andon did during his two-year ownership, we do not know, but thanks to the Silvertone Auction house, in 2013 this beautiful 1958 Triumph TR3 found its way to us at United Autosports.
While here we have undertaken a complete nut and bolt restoration sparing no expense, and have kept a photographic record of all the work we have done. Now in its final stages, this 60 year old piece of British motoring history is in concourse condition and almost ready for its loving new owner.
For further details, questions or additional photographs please contact callum@unitedautosports.com or call on 0845 459 9959
United Autosports are a globally renowned International racing company with top flight facilities and staff. Having twice won the European Le Mans Series with Ligier sports cars, United Autosports are the official UK agents for sale and servicing of all Liger cars and equipment.
Based in Leeds, United Autosports are dedicated to sustaining and improving the world of motorsport and vintage cars. During their down time the team make use of their first class technicians and equipment to prepare and restore road and race cars of all ages to fastidious levels of refinement. Having already completed ground up restorations and run some of the world's most famous cars at the highest reaches of international motorsport, United Autosports are one of the world's premier classic automotive companies.
If you have something special you would like restored, refreshed, prepared or managed, why not contact our dedicated team of professionals today? By offering an unlimited range of products and services we can cater for any and all of our clients requirements. This ensures we are providing the best possible location for you and your treasured toy.
You're in good hands!
expand_less
expand_more
SPECIFICATION
Basic Information
TR3 (A)
RHD UK Car from new
Primrose Yellow
103,000 miles (0 following full restoration)
First registered 07/11/1958
Technical Specification
1991cc Triumph Inline four-cylinder OHV 100bhp
Four-speed gearbox with overdrive on second, third and fourth
Girling hydraulic disc brakes with vacuum servo
Independent front wishbones with coil springs and telescopic dampers
Live rear axle with semi-elliptic leaf springs
Polished wire wheels
Additional Specification
Red leather interior
Rear bench seat
Heater
Murphy transistor radio
Tonneau cover
Spare wheel
Wing mirror
expand_less
expand_more
GALLERY