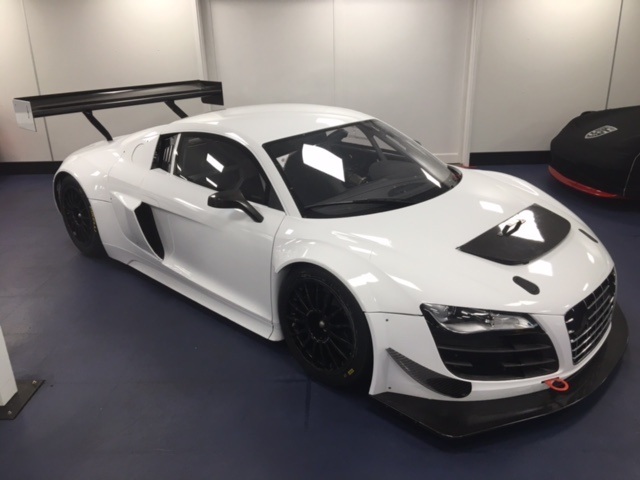 Audi R8 LMS ultra
The Audi R8 LMS ultra was an instant success. At its debut race in 2012 they finished first and second around the infamous Nurbugring 24 hour.
£89,995 +VAT
ENQUIRE ABOUT THIS CAR
expand_less
expand_more
OVERVIEW
This R8 was first supplied to Team Rosberg in 2010 and raced in the ADAC GT Masters series. The car was a top-10 finisher throughout the season and once getting on the podium.
It then passed hands to Team Novadriver who competed in the International GT Open for a number of years and upgraded the car to LMS ultra specification along the way. Again the car was achieving regular top ten finishes proving the cars competitiveness.
This car was regularly updated throughout the years and following a short stint with a privateer is now in full 2013 LMS ultra spec.
United Autosports have now prepared this R8 and are offering it for sale along with nearly an entire cars worth of spares including; a complete engine, gearbox, bodywork and multiple sets of wheels.
For further details, questions or additional photographs please contact callum@unitedautosports.com or call on 0845 459 9959
United Autosports are a globally renowned International racing company with top flight facilities and staff. Having twice won the European Le Mans Series with Ligier sports cars, United Autosports are the official UK agents for sale and servicing of all Liger cars and equipment.
Based in Leeds, United Autosports are dedicated to sustaining and improving the world of motorsport and vintage cars. During their down time the team make use of their first class technicians and equipment to prepare and restore road and race cars of all ages to fastidious levels of refinement. Having already completed ground up restorations and run some of the world's most famous cars at the highest reaches of international motorsport, United Autosports are one of the world's premier classic automotive companies.
If you have something special you would like restored, refreshed, prepared or managed, why not contact our dedicated team of professionals today? By offering an unlimited range of products and services we can cater for any and all of our clients requirements. This ensures we are providing the best possible location for you and your treasured toy.
You're in good hands!
expand_less
expand_more
SPECIFICATION
Manfuacturer
Audi
Model
R8 LMS ultra
Class
GT3
Period
2012-2015
Chassis Number
AS42A0FGT310 0211
Engine
5.2L V10 DOHC engine 570bhp
Brakes
Brembo callipers with steel grooved and vented discs
ABS
Transmission
Six-speed pneumatic sequential gearbox with paddle shift system
Susspension
Front and rear double wishbone fully independent suspension with stabilisers
Eibach springs and Bilstein dampers
Electronics
Bosch Motronic MED 9.1.2
Chassis
Audi Space frame with aluminium and carbon fibre outer skin
Weight
1250kgs
Fuel System
Staubli SAF 45
120 litre tank
Cockpit
Quick release steering wheel
Bosch digital dash display
AudiSport racing seat
In date harness
Wheels
18" Alloy wheels
Front 12"
Rear 13"
Dimensions
Length 4670mm
Width 1994mm
Height 1195mm
expand_less
expand_more
GALLERY